One Year On – The longest pit stop we will ever take
It was Sunday 15th March 2020, the day of our technical rehearsal. The cast started to arrive at Hyde Festival Theatre from 9am, this was before the band arrived to set up for our first live sing through. The feeling to finally get this show on stage was a mixture of excitement and total fear the show week had arrive so soon.
Our 2020 cast had worked so hard to get to the point they were at during this Sunday rehearsal, but we still had a lot of work to do before opening night on Wednesday 18th March 2020. The dedication and commitment was bigger than ever before.
Amongst the excitement and fear was a worry about what was happening in the outside world, that dreaded constant news of COVID-19 and how it would affect us in such a big way. But we carried on with hope that everything would work out in the end, thinking we would be in front of audiences in a few days time.
By 11am the band were set up and ready to go under the baton of Jeremy Slieth, musical director for All Shook Up. We were really pleased Jeremy was able to return to HMS after a number of years. The sounds of rock and roll had finally arrived at Hyde Festival Theatre – as cast sat eagerly facing the band to sing along to the famous Elvis tracks they had been listening for several months running up to this day. It was energy boosting to hear it all come together, a feeling that many will be familiar with when taking part in any musical theatre production.
In the week running up to this day we had already tried run throughs of the show with some costumes, prop runs, even trying with set and moving scenery. So much hard work had gone into getting this show ready.
By noon, news started to appear about the closure of public spaces and the impact that COVID-19 would bring. Nobody would expect the impact it would have on HMS, theatre and amateur productions all over the world.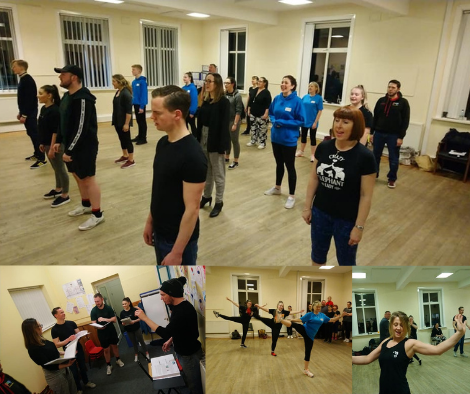 By mid afternoon on that Sunday, it was down to Julie Mayne (Chair of Hyde Musical Society) to announce that we had to start packing up and head home until further notice. The closure of public spaces and restrictions to public performances had been announced. It was devastating for everyone. The fight against COVID-19 had arrived right in the middle of our 2020 show week.
All that hard work, weeks of rehearsals, stressful nights getting this show to even a presentable level, chopping and changing from choreographers, changes in casting and rejigging show numbers all felt completely wasted. But there was nothing that we could do to change it.
As we gave our final cuddles, our final goodbyes, one thing we didn't know at the time is that it would be well over a year that we would be able to get back together to finally bring this show to the stage. In fact it will be nearly two years on from that week where we will attempt to bring you this production to the stage.
___________________________________________________
The above definitely brings feelings of emotion for many of those involved in ALL SHOOK UP and there will be many of our audience members, patrons, even family and friends that did not realise we were so close to curtains up – so close to having a show.
A year on and our committee, cast, crew and creative team show 100% commitment and more to getting this show finally on stage.
As we continue through 2021 we keep everything crossed that we can get back to rehearsals after the summer and get back to what we love the most – the magical world of amateur theatre and the love we have for it.
We ask everyone to keep everything cross for us too. We really hope we will see you all very soon.
For now, stay safe, stay healthy and stay happy.